MOUNT EVEREST NEWS 2013' - BLOG - Begins here: March 30, 2013'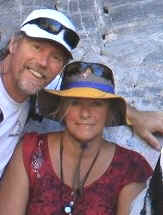 This is it!
.... We often get referred to as the "Mom and Pops" of Everest. We'll go with that.... I hope it says and shows what's most importa
nt to us - that we care.
Welcome to Peak Freaks Everest 2013' season and blog spot. Our team members are currently making their way to Kathmandu in preparation of the annual push to the top that has been going on here actively in a commercial sense since 1991, the year of our first Everest experience.
We have no insight or prediction to share on how the 2013' season will play out this year. Every expedition is unique and so are the participants, that's the cool part of this lifestyle and experience for everyone involved. We wonder how many climbers there will be? how many teams? weather? mountain conditions? politics and so on. Each year it's a total surprise. The puzzle starts to come together once we start bumping elbows in the Khumbu Valley. At that time we'll start getting a better idea on what we will be working with in giving climbers their best shot at reaching their goals and standing on top of the world.
We continue to keep our teams small in size offering more flexibility to work around the challenges as they are presented. We continue to keep our staff ratio well above average of our competitors -safety in numbers rules!!!- and can sleep at night knowing our Sherpas and Mountain Guides always give us 100% to get the job done, and more importantly bring everyone home maintaining our 100% client safety record during 42 Himalayan expeditions and other extreme adventures worldwide.
We've come to realize that our blog has been a bit one sided with no place for comment. Tim's Facebook is max'd out at 5000 friends but you can click the FOLLOW button (above) enabling you to still participate, get posts and comment. As well we will have a BLOG post where you can leave your comments- coming soon!
We'll have SPOT Trackers on a couple of climbers this year and there are some climbs for great causes that we'll be featuring throughout this journey.
It's all up hill from here until it's time to turn around and climb back down mid to late May. Team introductions coming soon!