April 22, 2013: 21:00hrs (NPT)
CAMP 2- All is good.
. our team got out to look at the Lhotse Face close up. Lots of snow
built up on the lower mountain but not much at all on the Lhotse Face. We've been watching how things were going to develop up there and make a decision on the fixing of the route to Camp 3. It's pretty much decided now to not even bother with the route used up until last year, instead the the old original route that was established years ago we be fixed as we did last season. The wind keeps blowing the new snow off the Lhotse Fa
c
e so this will be the safest option once again in an attempt to avoid potential rock fall hazards.
There was quite a bit of snow building today on the lower mountain, between Camp 2 and base camp. Several teams turned around and it's not snowing now and is predicted to give us a good window for travel back down tomorrow before the next storm. The snow was knee deep in some sections but with the other teams turning back they've nicely punched in the trail for us so it's looking good.
Everyone is having a fabulous time up there. Over and out.... Tim
April 21, 2013: 21:00hrs (NPT)
Camp 2
-
checked in. Team made it to Camp 2 in good time and have settled down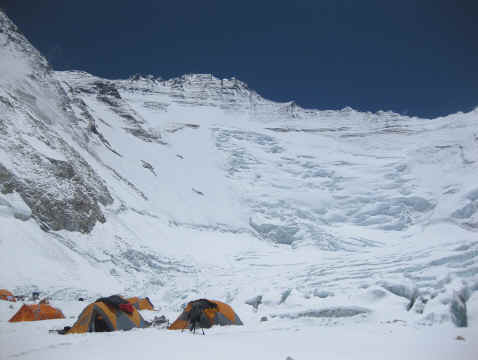 for the night after a good dinner. Tomorrow they will hike up to the Lhotse Face and have a close look, oxygenate and keep the legs moving. They'll sleep there again tomorrow night and then come back to base camp to rest till the route gets fixed with rope up the Lhoste Face. Once the route gets fixed the Sherpas will start hauling loads up to C3, tents, fuel, food, stoves, oxygen and more rope for fixing the rest of the mountain to the summit.
After Camp 3 is established and stocked the last camp, Camp 4, often referred to as the South Col because of its position will be assembled. This is the most critical camp. This is a life saving camp near the death zone after a summit push, if you can make back to hear in bad shape chances are you will survive. You don't have this option of dropping down quickly to a safe heaven quickly when climbing on the North Side but then you don't have the ice-fall to deal with either. Both sides have their crux.
Base Camp: Meanwhile back at base camp all the leaders attended a memorial service for the resent deaths of Sherpas that have worked here for a very long time and who have made great sacrifices in making climbing Everest possible for everyone. It was a very touching event put on by the SPCC, the environmental control services for parks. The leaders all left with envelopes for collecting donations for the passing of two senior ice-fall doctors who have been major contributors, Mingma Sherpa (49) the most recent who fell in a crevasse while working here on April 8th, and Ang Nima Sherpa (59) the oldest of the team who passed away in his home in Pangboche in January. It was a nicely orchestrated function.
April 21, 2013: 08:00hrs (NPT)
Camp 2 here we come!
Change in plans, the snow quit around 22:00hrs last night and the team woke to sunny skies so they're going for it. They should be in Camp 2 in about 4 hours.
Tim also reports that he's happy with what's being blanketed on the Lhotse Face and how it's bonding with the warmer temperatures that they're starting to enjoy. This is the perfect fix for what was a rocky route. A bit of wind took off more than we had hoped for but at least its some.
April 20, 2013:
White Out.
..
. Team holding up at Camp 1 due to white out conditions making it too difficult to climb up to Camp 2 so the decision was made to hold tight for today and see what would come in the form of snow. It snowed most of the day off and on and has built up enough to cause concern to climb higher to Camp 2 at this time.
The weather reports are showing that the precipitation is going to hang around a while longer so the safe thing to do would be to return to base camp and wait it out and then let things settle before going any higher.
The good thing is they have tagged Camp 2 so our team is certainly in a good position to move when things improve. All part of climbing in big mountains, weather rules!
April 19, 2013:

Good work team! Good day!... Everyone made it to Camp 2, spent the day and are now sleeping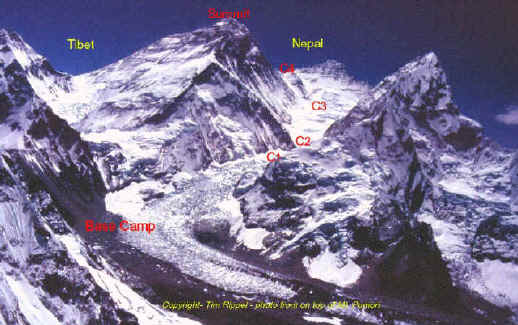 back at Camp 1. Tomorrow they will go up and stay one or two nights and get used to life there.
Camp 2 is our advanced base camp at an elevation of (19,900ft / 6492m). Here we have all the same facilities we have at base camp except for a shower, We have a dinning tent, sleeping tents and a toilet tent where human waste is collected in buckets and carried off the mountain and disposed of down the valley where it is able to break down, dry and be burned and in some is used in the fields.
Our human waste is collected in biodegradable individual bags from C2 on up, we highly discourage human waste anywhere on the mountain and have been promoting this responsibility to other teams for years. They eventually got on board and tried all kinds of procedures to try and find something better but the biodegradable kitchen bags are the trick. No chemicals, no plastic to burn and proven to start to break down in less than 10 days. They can be bought at Walmart, a bag of 40 for $3.99. Pretty simple...
Our Camp 2 kitchen crew will stay up here at this elevation throughout the expedition from here on out. They will keep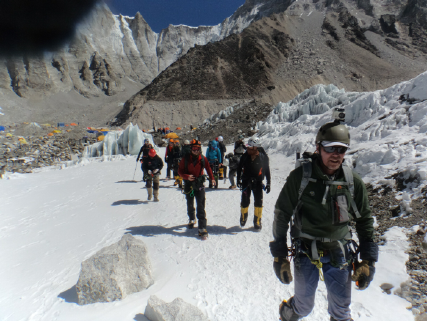 the home fires burning making sure there is hot water and hot meals available for the team as they come and go. Some members will be climbing up high, while some passing through coming down at different times. This allows our members to have some flexibility in their movement on the mountain. Knowing there's back up oxygen, food and that there's someone home really helps up here.
What's next? The team will move up to Camp 2 tomorrow and the plan is to sleep there for maybe two nights. Then they'll return to base camp and be ready for Camp 3.
CAMP ELEVATIONS
Camp 3 (24500 ft / 7467m)

Camp 4 (26000 ft / 7924m)

Summit (29028 ft / 8847m)
COMMUNICATIONS: The climbers are out of reach for satellite conversation back home or 3G for the next few days. We have radio communications between them and base camp during these times. Just a heads up to family at home that this is why you won't be hearing from anyone for a few days. No news is good news is the way it works here.
P
hotos: Route map of Everest South - Team 2013 heading to Camp 1: More photos uploaded on Tim Rippel's Facebook today.