April 25, 2013: 21:00hrs (NPT)
Camp 3 fixing
...
starts tomorrow and expected to be completed around
!5:00hrs if all goes well.
Climbing to C3: Tomorrow Murad and Lee will head up to Camp 1, the next day the other members at base camp will meet them on the route heading up to Camp 2 where they'll spend one or two nights depending on wind and fixing completion to C3.
Base Camp: The team is in high spirits today, right now we are the eve of the full moon tomorrow. It's incredibly beautiful, the mountains with all the new snow and torched up by moon, words can't describe it. Just wow!!
To add the fun today solo trekker Craig Falkenhagen from California who we've been following his progress up to base camp arrived in great shape today with Ngima Sherpa, Ang Nima's son. It's always fun to have someone new to talk to and get tales of the outside world that they bring with them. We are all sure enjoying each others enthusiasm for how things are working out and how much fun we are all having.
I'd have to say my personal highlight today beside meeting Craig was the horseshoe tournament:
RMI - Marker Tucker joined with Justin Merle from IMG vs Peak Freaks - Tim Rippel/Marty Schmidt...... and.......... wait for it........... WE WON!!!!!!
Back to the tent to get in on movie night with the team.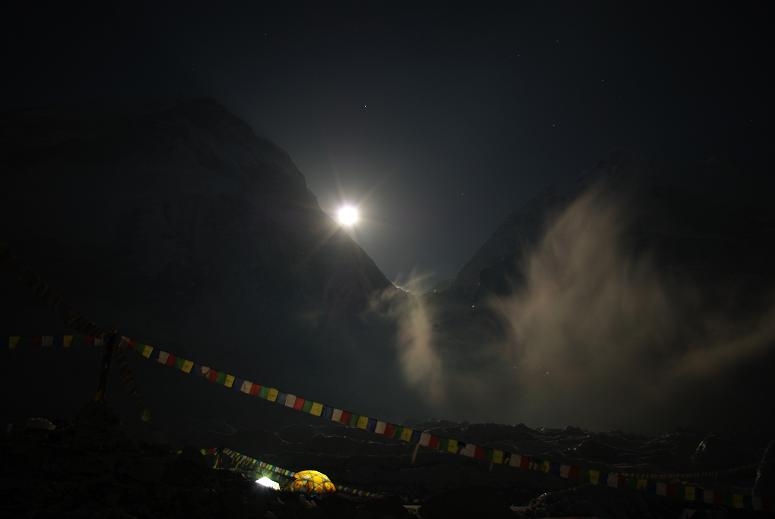 Our all time favorite night photo taken by Peak Freak Everest summiteer Dominque Gilbert from Quebec in 2008 during the full moon at base camp.