April 2, 2013'

- Everest 2013' team arrives in Namche Bazaar (3445m)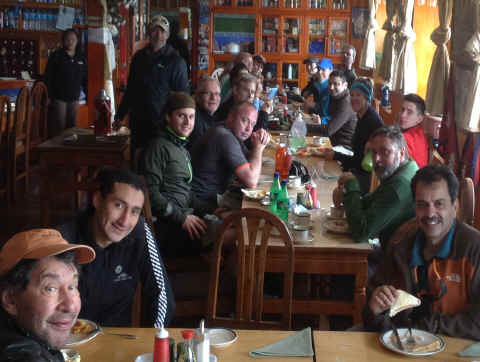 Full bellies and ready for bed. Most of the team have already hit the pillow, just a few of us burning the candle for a little longer.
The enthusiasm is building after everyone caught a glimpse of Everest today from the little hidden trail on the way to Namche today. This is the first time trekkers will see Everest, we'll see it again till tomorrow when we hike to Khunde and Khumjung to acclimatize higher for the next days rise in elevation and enjoy it in the comforts of Ang Nima's home.
Slowly we go... climb high sleep low rule of thumb for staying healthy here.
It's great to be back in our second home and with a great bunch. Everyone is doing really well and having a great time. Over and out.... Tim
April 1, 2013' - 07:00 hrs

- (NPT)
PERFECT.. perfect day, perfect weather, perfect landing in Lukla... Time for some breakfast then we'll pack up and head'er to Monjo (2804m). The team is stoked to be out of the city and looking forward to sleeping by the river tonight. No barking dogs, no honking horns and clean air. ..Tim
http://peakfreaks.com