April 24, 2013: 21:00hrs (NPT)
. no... that's not a har har, we certainly aren't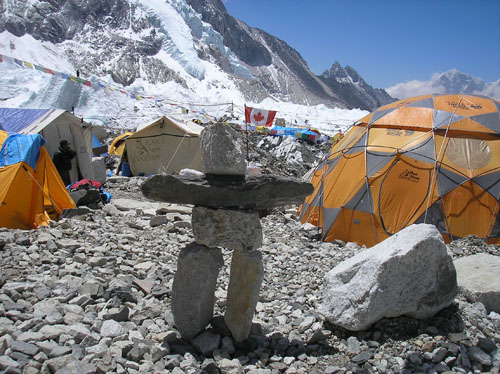 laughing. HAR is the short for High Altitude Retinal Hemorrhage, another one of those difficult effects of climbing at these elevations. Studies are starting to show that a good portion of mountaineers have this, some will know and some never will.
When team mate Christof Deblauwe from Belgium returned to EBC he complained of seeing flashes and some yellow color on his return from Camp 2 yesterday. Tim took him over to EverestER immediately to have him checked out and it was determined he may have developed HARH. A re-check this morning the doctors confirm HARH and explained that he's in a situation that would only get worse and potentially cost him loss of vision if he were to continue climbing higher. Altitude sickness and effects is something that should not be taken lightly up here, being able to communicate your symptoms with your guides and team mates is very important as Christof did.
Christof was evacuated this afternoon to a lower elevation and with weather on his side made it all the way back to Kathmandu today. His climb is over, he will be missed as part of our dynamic team in 2013.
Nice weather today, lots of resting, laundry detail... Tim frustrated with Ncell the 3G network here, wondering why it seemed to work fine last year and what's up with this season? I told him it's because somebody is probably watching NetFlix over closer to the tower....... I don't know, just a funny thought :)... cheered him up.