May 5, 2013: 21:00hrs (NPT)
Peak Freaks Sherpa climbers are now resting at Camp 2 after a full day of hauling loads. All of our equipment like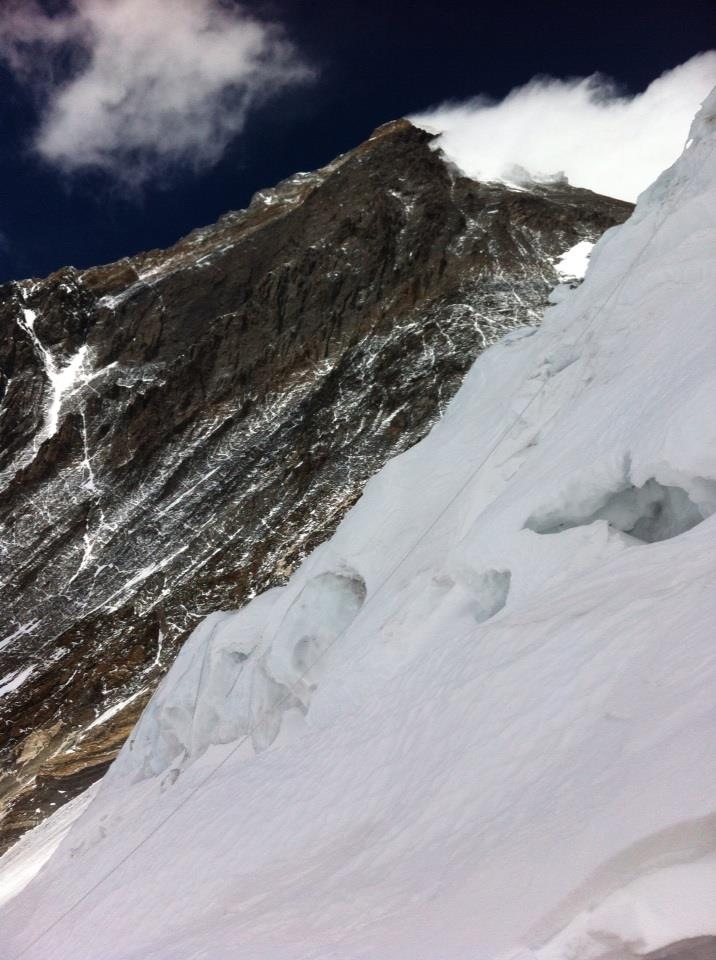 tents, fuel, food and oxygen is in place at Camp 3 and part of it at Camp 4.
Tomorrow the last of the loads to C4 including camp equipment and oxygen placement will be complete at Camp 4 for Peak Freaks. This is the last camp where the summit pushes are staged from.
After this completion our Sherpa climbers will retreat for their big rest. Because our staff are all from Khumbu they can run home and catch up with their families. Check on the gardens and yaks, get caught up on house chores and visit with their families they've not seen for six weeks. This is an exciting time for them, this marks the half way point of the season
.
The second part will be to do it all over again. Not all our staff have the privilege to summit Everest and not all of them have the desire to either. We have three levels that our staff aspire to. We have some that are happy to be carriers and rope fixers who will carry everything up and then carry it down again behind the summit team post summit.
We have some that are summit Sherpas for our 1:1 Sherpa Guide/Climber ratio and we also have Personal Sherpas that work closely with our climbers throughout the entire climb, a climber is never alone on the mountain when with Peak Freaks. On summit day the guide ratio is boosted up to 2:1 Sherpa guide/Climber and all categories have further guidance with our Western Guide- Marty Schmidt.
J
oshua Jarrin, earned the elite position as a private Western guide this season. Unfortunately his client had to return to the US for treatment of an old injury. Joshua left with him so you won't see him up there in the summit push. He'll back again next season.
Tashi Tunde Sherpa is our climbing sardar who is all over the mountain. He's up and down and all around throughout this expedition keeping things glued together up there. He's an exceptional mentor and friend to our team of Sherpa staff.
We also offer a non-guided expeditions for climbers with a very strong bio such as Kevin Farebrother who has proven to be successful and strong at altitude. This means he will have with him a climbing Sherpa in the event of an emergency. Though Kevin is attempting to climb without oxygen will have oxygen as a backup.
Check out his recent photo "view from C3 looking at the summit of Everest he took on his solo night up there".
As mentioned previously our climbing team is in the low lands of Pheriche taking in the rich air while I stay here keeping in touch with our Sherpa family hard at work on the mountain.