May 17, 21:00hrs (NPT)
South Col (7986m -26,201ft)
That's where the team is resting peacefully tonight and did fantastic today, I'm proud of them. It was breezy earlier in the evening as we knew it would be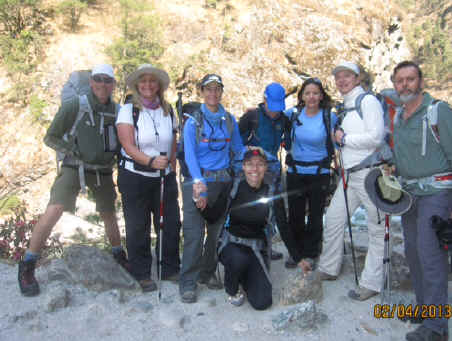 and now it's calm. Tomorrow will probably be the longest day of their lives, though the summit push physically will be the longest day for them the mental part of climbing Everest begins here. They slumber and twiddle with anything that's twiddleable while waiting for the passing of the next set of pages of Warpworld. The book is now broken into 6 pieces and is being passed from tent to tent.
Meet climber Lee Den Hond:
Lee's climb is being followed by thousands in South Africa (her home) thanks to the support of the television company Carte Blanche "Making a Difference" Everest campaign. For Lee her climb has two purposes: to summit the highest mountain in the world, becoming the third South African woman to do so, and to raise awareness for the mountains that so many children must climb daily South Africa, in looking after their siblings as the guardians of child-headed households.
Most of us have seen the outcry for help on our TV's at home and sometimes become immune to these ads for help. Lee is hoping to bring awareness from a higher level. These child-headed households are entirely dependent on social grants, charities and the kindness of communities. While no-one can replace the love and guidance of a parent or caregiver, these households (over 150,000 of them) desperately need food, clothes, money, shelter and education.
To learn more on how you can help and make a difference we encourage you to go to this page, have a read and we invite you to help if you can. http://everest013.org.za
Photo: Tim, Lee, her support network and Carte Blanche production crew in the Khumbu.
Everyone is taking this time out to reflect, lay low and save our energy for the nights to come.
Carte Blanche production team was also responsible for the creation of our "Base Camp Harlem Shake" that was apparently received well in South Africa.
Here's a good look at the glacier... 16 minutes of it!!!! that's a lot of fuel.