May 8, 2013: 21:00hrs (NPT)
Strange header I know but that's what came to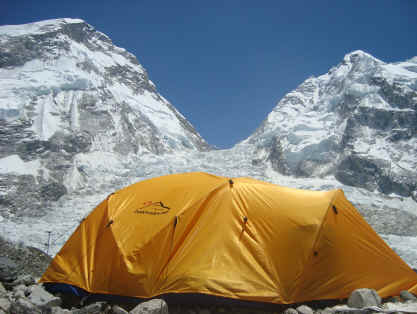 mind when I sat down to begin today's blog.
The rope part is news that the
Sherpas are going for it again tomorrow
to fix the upper route towards the summit. They intend to get up to the balcony, retreat and then finish the next day (10th of May) then get the heck out of there. If the reports are correct the big hit of wind is expected to begin the eve of the 10th. Or will it?
There are a lot of ups and downs and hit and misses in the reports this season. The only thing that seems normal at the moment is the Sherpas saying "it's going to be an early monsoon", Tim chuckled on the sat phone as they say this every year - but never say never.
T
he whipping part comes from some research I've doing as a result of recent conversation with a meteorologists regarding the patterns of the jet-stream and how it's changing. It's not 100% supported by thoughts that it's related to global warming due carbon emissions, but that's what the majority believe.
It's thought that the jet-stream is weakening and not holding a continuous smooth path but instead it dips and whips in a different pattern causing all kinds of weather phenomena's like drought, floods, extreme tornados and so on.
By looking at the reports these past few days I see similarities of these irregularities from my experience in watching weather for our teams. This is really interesting stuff.
The normal part of all this is that we expected the mountain would be dry and it is, snow did come which was perfect and it leaves just as quick as it came, we climbed to our high Camp 3 rotation on schedule and predicted we would be held back by wind - which we are. The next part of a "normal season" will be the break between the two seasons (winter and monsoon, or summer) that typically happen causing the "window of opportunity" for Everest summits, a calming transition moving the jet-stream away from the Himalayas. I can tell you I see it coming and all in all it's looking good.
Peak Freaks Pumped up Kicks: Our team is having a blast in the low lands. They took advantage of their time off to the fullest. They decided to kick it all the way down to Namche Bazaar. If you recall this is Day 2 on the trek coming in to base camp so they are really doing this trip all over again. They are a very energetic and healthy bunch and the very best of friends now. Meanwhile back at camp Tim is LONELY!!!!... he's not the happiest camper when he doesn't have peeps around him.
The team is back in Pheriche as of tonight and have reported that they are planning on making their way back to base camp tomorrow.
Our second trek group is in Dingboche tonight and will be in Lobuje tomorrow, then base camp the day after. They are said to be doing really well. It's perfect timing, they'll be at camp when the team is there and they can all share stories of this amazing adventure.
Our climbing Sardar Tashi Tunde Sherpa has been carrying the SPOT Tracker, if you've looked in recently he tracked up to the South Col with it.
Photo: Lonely in base camp...