May 19, 2013 - ENTIRE TEAM SUMMITS!
Sean Mooney- Canada/Ireland 05:39hrs

Pho Temba Sherpa- Nepal 05:30hrs

Marty Schmidt-New Zealand 09:10hrs

Kevin Farebrother- Australia 09:10hrs - with oxygen in the end, amazing effort with smart choice!!!

Patrick McKibben- Canada/Ireland - possibly the youngest Irish to summit at 24 years old.

Palden Namge Sherpa- Phortse 09:10hrs (8 x summits)

Sange Phuru Sherpa- Khotang 09:10hrs (2 x summits)

Lee Den Hond- South Africa "Third" South African woman to summit

Chhiring Namgal Sherpa- Khumjung 09:10hrs - (3 x summits)

Dr. Murad Lala - Mombia, India - 09:10hrs

Mingmar Shepa Salka - Okhal Dunga - 09:10hrs - (6 x summits)

Chhong Karma Sherpa- Tingla - 09:10hrs- (4 x summits)

Fur Tempba Sherpa- Phortse - 09:10hrs - (2 x summits)

Tashi Tundu Sherpa- Khumjung - 09:10hrs - (9 x summits)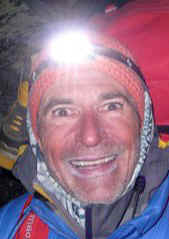 Mountain Conditions: Busy but fantastic weather. Tim says it's breezy at base camp but calm on the summit with beautiful warm sunshine. Cameras are clicking away and then the home stretch begins shortly.
It could take anywhere from 4 to 5 hours to reach the South Col depending on how busy the route is. Marty says the team is all super super strong.
They have the option to stop and sleep at C4 or C3 if they want to. Peak Freaks keeps these camps stocked with oxygen and food till everyone is off the mountain.
We have a rescue team of Sherpas sitting at Camp 3 keeping Camp 4 open for our team and to be available in the event of a rescue. After our team climbs down from Camp 4 to 3 our Sherpas move up and tear down Camp 4, following our members all the way down the mountain till everyone reaches base camp.
It's been a nice and easy climb this year with good climbers. We are very proud of everyone, their eagerness to learn, stay motivate and be a solid team and....... Marty Schmidt ROCKS!!!
Marty will call in again at the balcony to let us know how everyone is doing.
Tim, Becky & Marty and our entire Sherpa community and crew.